New Products!

[About Us]

[Credit Application]

[Contact Us]

[Manufacturers]

[Catalog]
>Casters & Wheels
>Material Handling
>Order On-line
>Warehouse Specials!

[B&P Chart]

[Magliner/Liberator Comparison]

[Home]



"We could sell you a cheaper product,
but you can not purchase a quality product cheaper."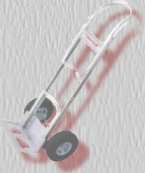 Casters & Wheels
*Please note, this is only a partial listing of the products and replacement parts we carry. If you don't see what you need, please call 847/981-9214 for the parts and products you need.