New Products!

[About Us]

[Credit Application]

[Contact Us]

[Manufacturers]

[Catalog]
>Casters & Wheels
>Material Handling
>Order On-line
>Warehouse Specials!

[B&P Chart]

[Magliner/Liberator Comparison]

[Home]



"We could sell you a cheaper product,
but you can not purchase a quality product cheaper."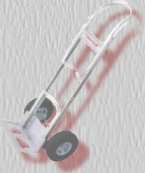 Manufacturers Represented by Creative Caster
We carry a full line of nonpowered material handling equipment for your commercial and industrial needs. Check back soon as more of our products are added to our on-line Material Handling and Caster & Wheel Catalogs.
Some of the manufacturers we carry include:




Creative Caster, Inc. | 1060 Pauly Dr. | Elk Grove Village, IL 60007

A woman-owned company

Now Accepting VISA, MasterCard & American Express

Phone: 847/981-9214 | Toll-free: 1-866/968-7425 | Fax: 847/981-9219

E-Mail:

Info@CreativeCaster.com